26-Ton Manitex Boom Truck Crane
Servicing York & Cumberland County
The 2601 Manitex Boom Truck Crane is capable of lifting 26 tons of material. Includes a four-section extendable proportional boom with a max tip height of 141 ft. Designed to be easily moveable, this boom truck crane is suitable for a variety of small-scale crane projects and tasks.
Crane Boom:

Features an inverted T cross-section with 4 sections telescopic boom. Uses a double-acting hydraulic cylinder and cable system to extend and retract. The single section measures 29 ft. 4 section measures 29 ft. to 101 ft. Also features a 5-ton capacity hook for heavy-duty weight.

Crane boom:

Four section extendable boom measures 33 ft to 105 ft. 

Gear pump hydraulics:

3 section gear pump hydraulic system helps provides 32 GPM to hoist, 10 GPM to swing, and 21 to other crane functions. 

Swing System:

372-degree non-continuous rotation with external mounted double reduction hydraulic motor. Swing speed measures 1.5 rpm.

A-frame stability:

A-frame stabilizer mounted under the truck frame to ensure stability.
Have a unique crane or trucking need? Please contact us to determine the best approach for your job!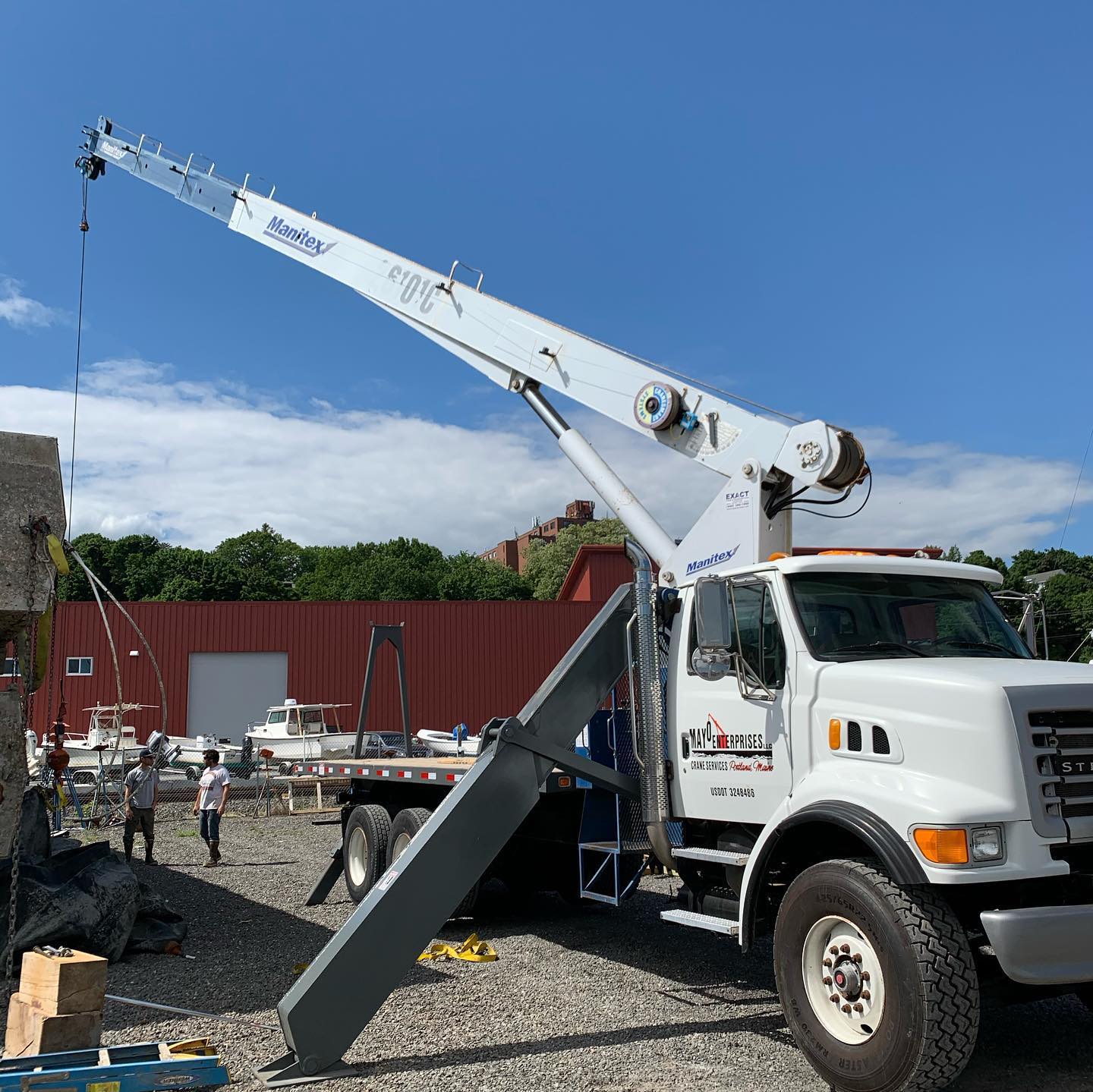 Committed to Quality and Safety
Easily avoidable accidents and petty mistakes on the operator's behalf can set you back. But not at Mayo Crane Services.
Our crane operators and truck drivers are certified by the National Center for Construction Education & Research for the Certification of Crane Operators (NCCER) Along with OSHA Safety Certifications. They have completed all the mandatory training and have years of experience in the field.
Simply put, when you choose us for your crane service needs, rest assured that your desired work will be completed safely, effectively, and efficiently.