About Mayo Crane Services LLC
A Portland, Maine based Crane Company
Mayo Crane Services LLC was established in 2015 and offers a wide variety of crane services.
The company operates using a 26101c Manitex Crane, and a Grove RT650E crane truck to complete jobs including but not limited to Sailboat mast removals, fishing gear/equipment loads/unloads, junk removal, tree jobs, scaffolding to the tops of roofs, construction sites, transportation/ delivery, dock removal, commercial projects, and lifting of HVAC units. We provide more than just the crane operating including rigging services and equipment, traffic control, mobile transportation, safety equipment, and more. Mayo Crane Services is fully licensed, certified, and insured and practices all safety measures to ensure the highest quality crane services. As a smaller company, we are able to provide fair pricing and convenient scheduling options. We are also available for emergency services. Call or email us today with any questions or to schedule your crane service- we look forward to assisting you.
Ian Mayo: Owner, Crane Operator, NCCER Certified
Meet Ian Mayo, Owner of Mayo Crane Services LLC. Ian grew up in Cape Elizabeth and his family was a big part of the Marine industry in Portland, Maine. His dad was a fisherman on the Portland waterfront and that meant spending many days immersed in the working waterfront culture- on and off of Fishing boats. After graduating from high school, he moved to Vermont where he studied at Vermont Technical College for Mechanical Engineering. After earning his Associate's Degree he moved back to Portland, Maine where his interest in the crane industry began. He was working with his father on the waterfront who had an old international 2.5-ton crane truck from 1982 that was not street legal and had been built with the parts of many different trucks. He started doing local favors for fisherman loading and unloading gear at his family's fish pier and eventually noticed there was a real need for a crane service on the Portland, Maine waterfront. Alongside realizing this need in the industry, he had discovered a passion for operating heavy equipment and using cranes to help the fishermen in town. In 2015, he established Mayo Crane Services and was focusing primarily on jobs for ground fishermen, scallopers, and seiners. Eventually word began to spread and HVAC companies, fabricators, and boat yards began requesting crane services. Now, 5 years later, Mayo Crane Services has acquired 2 new cranes and offers a wide variety of crane services across Southern Maine. Every job provides new challenges to overcome and he is meeting new companies locally everyday that can use his services. He is dedicated, certified, and committed to providing the highest quality crane services in Portland, Maine.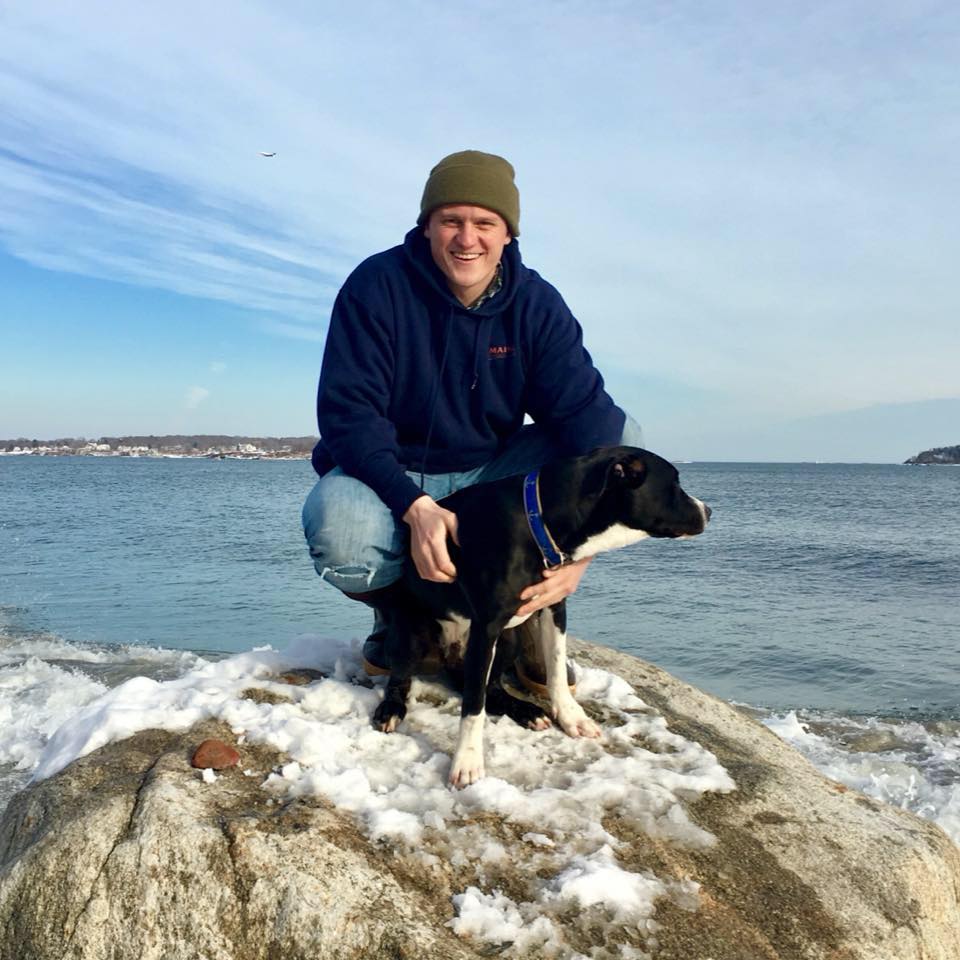 Mayo Crane Services LLC Cranes
50-ton Rough Terrain Crane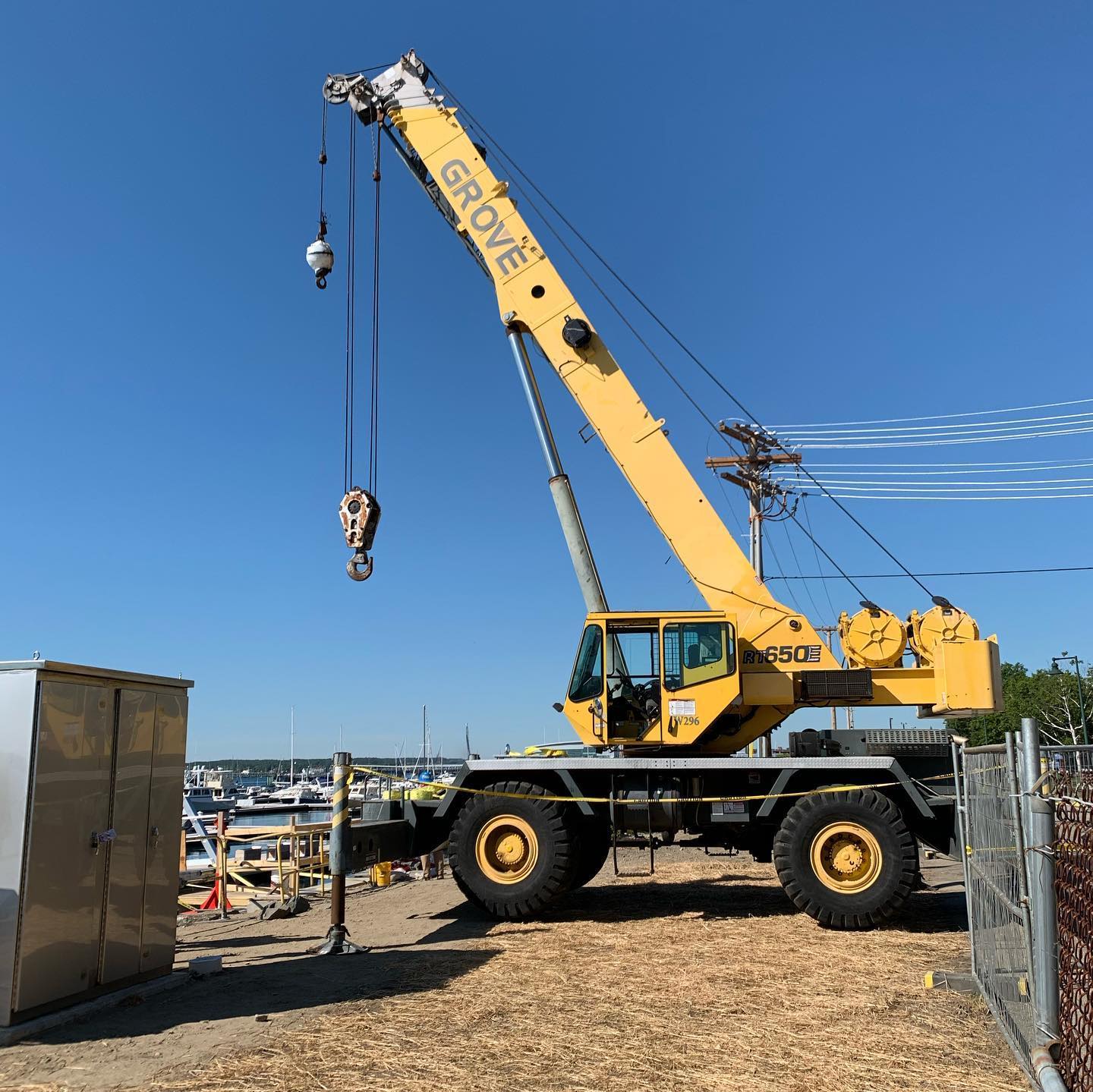 The Grove RT650 rough terrain crane has 50 ton capacity and a four-section main boom which extends to 105 feet, with optional fixed and telescoping boom extensions. It features a rugged deep box section frame designed to handle the tough conditions found on job sites.
26-ton Manitex Truck Crane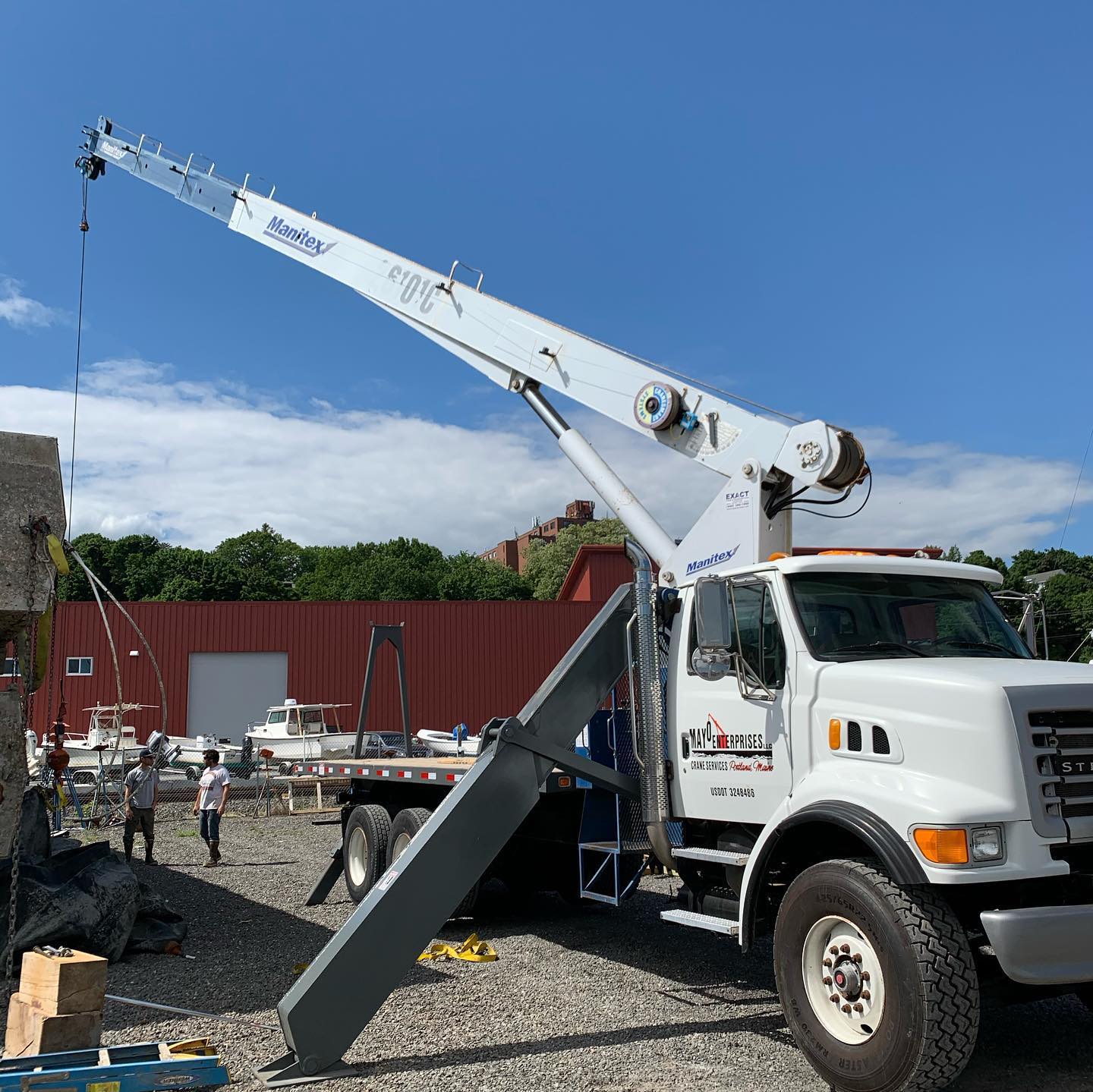 The 26101c Manitex Crane has a 26-ton capacity and a 4-Section proportional boom which extends to 101 feet, and a variety of other features. This crane is easily moveable by driving and is great for smaller scale crane projects.